Product details
This is a two wheel grinder with a 300 mm x 50 mm contact grind wheel and can be used as a heavy duty flat grinder in a frame design that pivots to ideal work positions.
Specifications
Powered by 1.5 kW motor, 220v standard
Hollow grind
Flat grind
Slack belt grinding
Fast adjustable belt tracking
Quick belt change
D = 450 mm, W = 350 mm, H = 1000 mm.
Weight = 45 kg.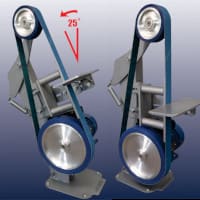 R10,950.00
J2STORE_PRICE_INCLUDING_TAX